Agtech VC preferences...
...and some liinks, incl. AI landscape
Next episode: DMT MoA, vector knowledge hippocampus (it's not a metalcore band, I promise!) and mental models I've long mentioned.
Pack your cow reactors, Billy!
Okay, let's start without a prelude (not that I advise that - on the contrary oh shut up at long last), here's a more readable and concise summary of technologies Agtech VCs look into investing ⇒ I'd view this as an ~informed view of trends to come and overall vertical future directions:
Agriculture and Farming:
Agricultural water recovery (Christian)

Computational agroecology (Lauren)

Crop genetics and biostimulants to improve yield, resilience and nutrition (Marika King)

Data collection and decision-making support solutions for the farming industry (Piotr Grabowski)

Regenerative agriculture (Frédéric Krebs, Gil Hosky, Erin Culley, Marika King, Steve Molino, Erika, Paul Rous, Lauren Abda, Jonathan, Daniel, Laura Hodgkiss)

Technologies that speed up the adoption of regenerative farming practices (Erika)
Alternative Proteins:
Cell cultivation (Jonathan)

Cell-cultured meat (Marika King)

Fermentation-based alternative fats or spinning technologies to make fibers that mimic muscles (Marika King)

Plant-based proteins (Greg Michel)
Energy and Climate:
Carbon capture/carbon removal/methane removal (Frédéric Krebs)

Carbon mineralisation (David)

Carbon-negative proteins and food ingredients (Hadar Sutovsky)

Carbon sequestration technologies with outstanding teams (Erika)

Clean high-temperature heat for industrial use cases (Christian)

Climate Fintech (Yael)

Climate risk analysis (Josef Seidl)

Climate software that combines ML and AI technologies, can help to improve the traceability of high-quality carbon credits. (Laura Hodgkiss)

Climate x Agtech: Innovations in animal feed to reduce methane emissions, fertilizers that fix nitrous oxide, and enhanced rock weathering for carbon sequestration

Efficient approaches to hydrogen electrolysis (Christian)

Fusion (Alexandre)

Low carbon air conditioning solutions (Puja Balachander)
Food Waste Reduction:
Nutritious, functional and high-value ingredients through upcycling of sidestreams and other solutions to reduce food waste (Marika King)

Sidestream valorization/upcycling of waste streams into vital inputs into other alt protein applications (Steve Molino)

Technologies to extend product shelf life (Lauren Abda)

Upcycling food that would otherwise be wasted (Lauren Abda)
Packaging and Materials:
Biodegradable packaging (Erin Culley)

New materials and technologies in the sustainable packaging space (Gil Hosky)

Sustainable packaging (Frédéric Krebs, Gil Hosky, Erin Culley, Dominique, Paul Rous)
Data and AI:
AI's influence on climate and food tech (Alexandre)

AI and data services to improve precision agriculture (Paul Rous)

AI Technologies e.g. for optimizing resource usage, emission leak detection or real estate investment planning (Josef Seidl)

AI tools to predict and deal with climate risk (Yael)

Deep learning model application to materials science and synbio (David)

Generative AI for biological intelligence (David)
Yeah, so somebody's been too lazy to read in whole and just distills the article...
Linkies-twinkies
Single mingle
Being forever alone may not be THAT bad, Bella DePaulo notes:
Many single people are just as happy or happier than married or partnered people;

Single people have the freedom to live life the way they want to and are often more integrated into their communities than married people;

Single people also connect more with families, neighbors, and friends, and are more available to assist others;

Singlehood satisfaction tends to increase after midlife. This goes in line with overall life satisfaction rising after 40s?
A nice quote: "The dangerous part of some of these societal messages is that it makes it seem like romantic relationships are some kind of a quick fix," he says. "It's important to get right with yourself first—to develop emotional stability and build a life you're happy with, consistent with your values. Otherwise, a romantic relationship is just a recipe to make two people miserable instead of one."
Stakeholders are those with skin in the game. No, not the ones waiting to stake a vampire. And designing a system that satisfies all requirements stated is sometimes a daunting task. As with, say, relationships, it's a tight uh oh interplay of trade-offs and OMGs.
One problem is that stakeholders hold different views on the system's goals - hence they may even describe the requirements in different ways, with no obvious method of normalizing that;

A way to overcome the aforementioned problem is to describe the system's goals as metrics with thresholds/constraints;

Another potential bummer is planning for unintended consequences, or sometimes perverse consequences - ideally we've got to have several laws that make the system adaptable to those, but who cares?
Zoe Chew's spewing gold, as usual - now on value categories a product can deliver:
Functional Value: Create practical benefits for users by incorporating relevant technical features into your product:
Speed: Offer a faster way to accomplish a specific user's goal

Performance: Easy to use and user-friendly

Friction removal: Reduce obstacles and unstuck the user's journey

Technical benefits: More accurate and secure
Monetary Value: Combine functional value with monetary value by helping customers save money, avoid losses, and increase savings:
Affordability: Attract price-sensitive customers with high-quality products at affordable prices

Reduce expenses: Eliminate middlemen, complex cost structures or hidden fees

Great savings: Offer discounts for bulk purchases or long-term subscriptions

Loyalty program: Offer point-based rewards, exclusive discounts, and perks to frequent customers
Emotional Value: Increase product value by creating strong pleasant experiences for customers. Consider how your product makes customers feel after they use it.
Reduce stress: Simplify people's lives by removing complexities

Reduce uncertainty: Remove doubts by providing transparent detail about how your product or service works

Increase confidence: Provide a guarantee or promise that your product will deliver the desired results

Remove fears: Assure customers by addressing their concerns
Social Value: Fulfill a person's social status or social needs by creating a sense of community around your product and providing additional support, guidance, and resources.
Belongings: Create a sense of community around your product by building an engaged online community where users can connect with like-minded people.

Motivation: Provide additional support, guidance and resources to help users when they are stuck.

Recognition: Provide rewards or celebrations when they achieve certain milestones.
I'd put this right near NFX's Network effects' manual on usefulness, and would strongly advise doing a checklistey list when designing a product.
Current AI landscape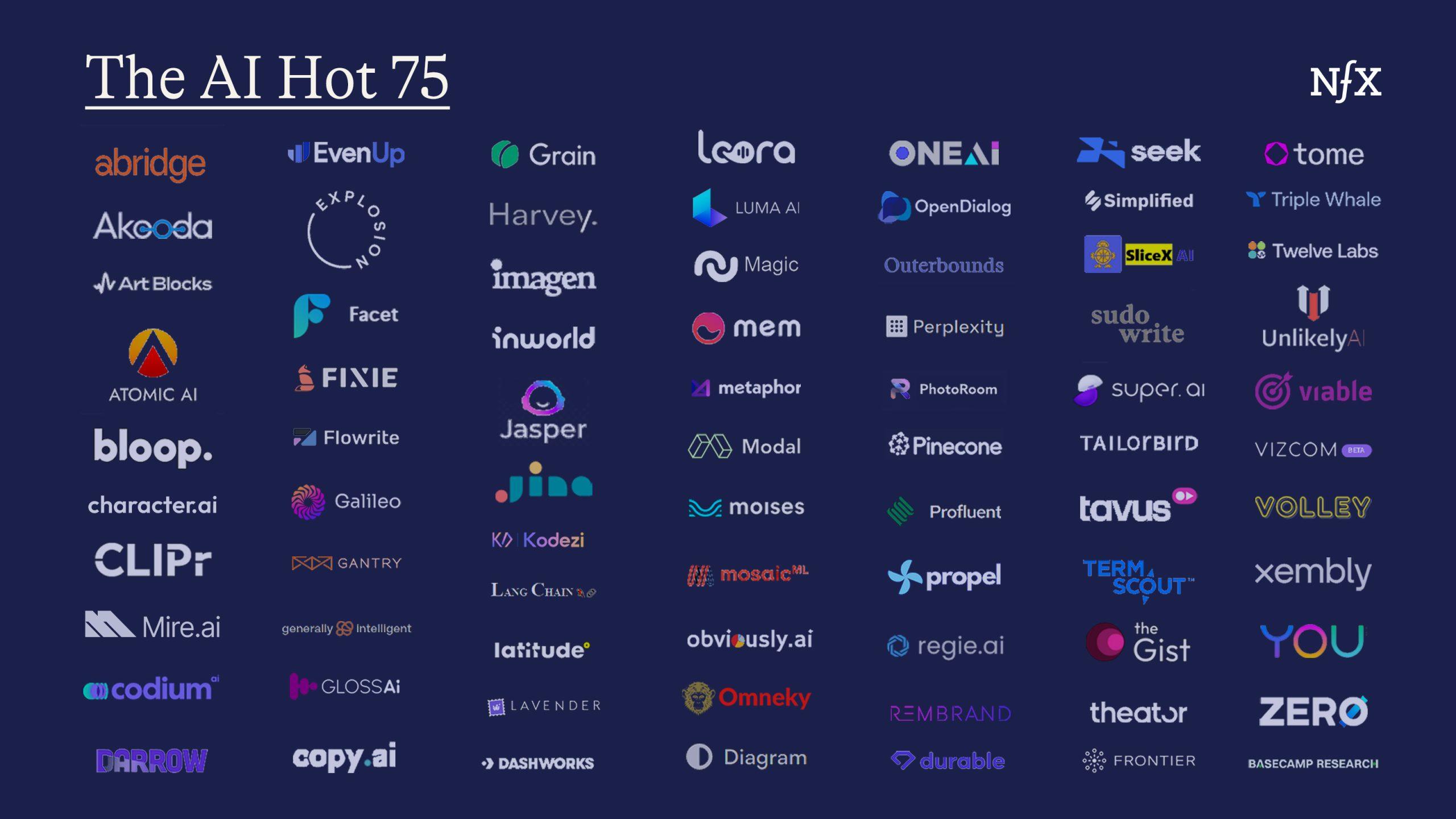 The spreadsheet itself:
Some nice free slide decks with tiny/atomic habits (they're too similar) for almost every gripe one usually has, from lack of focus to introvert lives...
---
Welcome to Teleogenic/YAWN/Boi Diaries❣️
You can find the other blogs I try to cross-post to: